WE | Well-being
As part of a brand new initiative in partnership the The Erica Legacy Foundation, WE saw a gap in the education system in regards to mental health awareness. Focusing on prevention and promotion, we built a program from the ground up that looks to educate students on the main topics surrounding mental well-being and the necessary steps you can take to prevent your mental health from declining.
I lead the Project Management of this new initiative from a marketing and communications stand point, collaborating with teams across the organization to develop a solid launch plan, innovative educator resources and multiple other activations through out owned channels.
Skills Used
Project Management

Product Development

Marketing

Content Creation

Web Design

People Leadership
Teams Worked With
Content

Digital Media

Curriculum Development

Educational Product Development

Partner Relations

PR
I worked hand-in-hand with our curriculum team to develop an innovative educational product that brought our program exclusively to 200 schools across Canada and the US. We enlisted the help of Mental Health Experts, Educators and Partners to create a truly unique and valuable resource for our selected Educators to test.
Working with our executives, creative team and front-end web development team, I lead the creation of the WE | Well-being Web Hub. This is currently a Phase 1 sub-section on the main WE.org website that houses all of our current resources.
Working in conjunction with our social media team, I developed a cross-platform launch plan to help spread to word about our new initiative. We used all of our owned channels, as well as a few earned and paid.
We teamed up with The Bay to create bracelets that support mental well-being programming, with 50% of the total price going back to support our program.
Using our signature event that reaches over 300,000 educators and students across North America and the UK, we were able to launch the program and gain interest from new educators wanting to become part of the full program in 2019.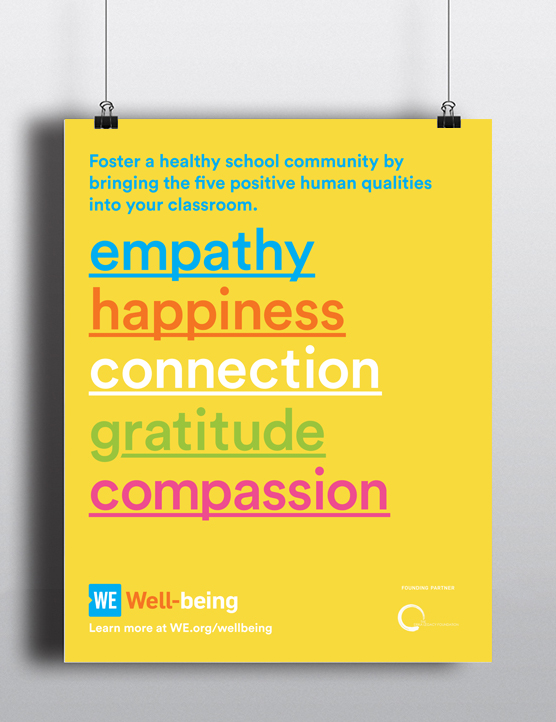 Posters & Supporting Materials
Along with the above, I worked with other teams in the organization to see how we could cross promote the new initiative to our existing partners. We developed a suite of supporting assets including posters, flyers and brochures.